Affordable Wholesalers
Devland Cash & Carry sells a wide-selection of products to independent and commercial traders at competitive prices. We have over 22 locations nationwide.
VIEW OUR SPECIALS
Devland, Your Wholesaler of Choice
Devland Cash and Carry is a fast-moving consumer goods (FMCG) wholesaler enterprise. We provide general merchandise and food products in bulk to a range of independent traders and commercial users throughout Southern Africa.
At Devland, we pride ourselves on providing cost-effective prices and excellent customer service. Devland has established reliable relationships with a range of suppliers. This allows you, our buyers, to take advantage of the best possible promotions.
We understand the dynamics of business and want to help you maximise your profits. There are more than 20 Devland Cash and Carry stores across the country that serve as a trusted supplier for many businesses. Locate a store near you or visit us at our head office.

Wholesaler
Devland is a low-cost wholesaler dedicated to providing you with the BEST…for LESS.

Unbeatable Prices
We stock all of the much-loved brands and products at unbeatable prices.

Find us
Locate a store today and take advantage of our daily deals.
Find a Devland Cash And Carry Outlet Near You:
Devland's Head Office
011 989 8800
 Cnr Klepkas & Piston Road
Devland Ermelo
 087 550 2660
 Cnr Voortrecker & Havenga Street
Frontline Pretoria
012 326 7057
 183 Bloed Street
Randfontien Hyper
011 692 4672
 36 Fedler Street
Komati C&C
013 793 8273
 No 2 Hotchkiss Street
Hyperland Silverlakes
012 809 2275
Hans Strijdom / Solomon Mahlangu Drive
Devland Nelspriut
013 752 2338/2343
 7 Old Pretoria Road
Devland Kokstad
061 464 4242
 38 Main Street
Frontline Hammanskraal
012 711 0100
 Douglas Rens Road
Metro Brits
012 252 7318
 49 De Wits Avenue
Hyperland Devland
011 933 3605
 46 East & Piston Road
Hyperland Cape Town
082 722 2512
 3 Maymoena Crecest Ethol Industrie
Devland Welkom
057 355 7706
 60 Power Road Industria
Devland Newcastle (Impuphu)
034 315 5866
 61 Murchison Street
ANE Kleksdorp
018 469 1786
10 Newtron Street Yurainval
Metro Van der Bijlpark
016 981 1005
 101 Edison Boulevard
Hyperland Hillfox
011 615 5523/1008
 Cnr Hendrik Potgieter & Mahlangu Drive
Champion C&C
012 327 0160
 279 Nkomo Street, Pretoria West
Frontline Hyper Mokopane

 Cnr Nelson Mandela & Taylor Road
KZN Distribution
 033 386 3333
 No. 9 Edenvale
Metro Newtown
078 871 4403
 Barney Simon Road
Devland Cape Town
021 534 1173
 1 Bofors Circle, Epping Industria
Metro Rustenburg
072 091 0363
 Shop no. 11/12 Zinniaville Complex, Orchard Street
general bulk wholesalers
Get in touch
Speak to our team about getting high-quality products at competitive prices. With convenient locations across South Africa, visit a Devland Cash and Carry to buy all your favourite brands and products in bulk.
Click to view number0119898800
Click to view emailinfo@devland.co.za
Physical Address: Corner of Klepkas and Piston Road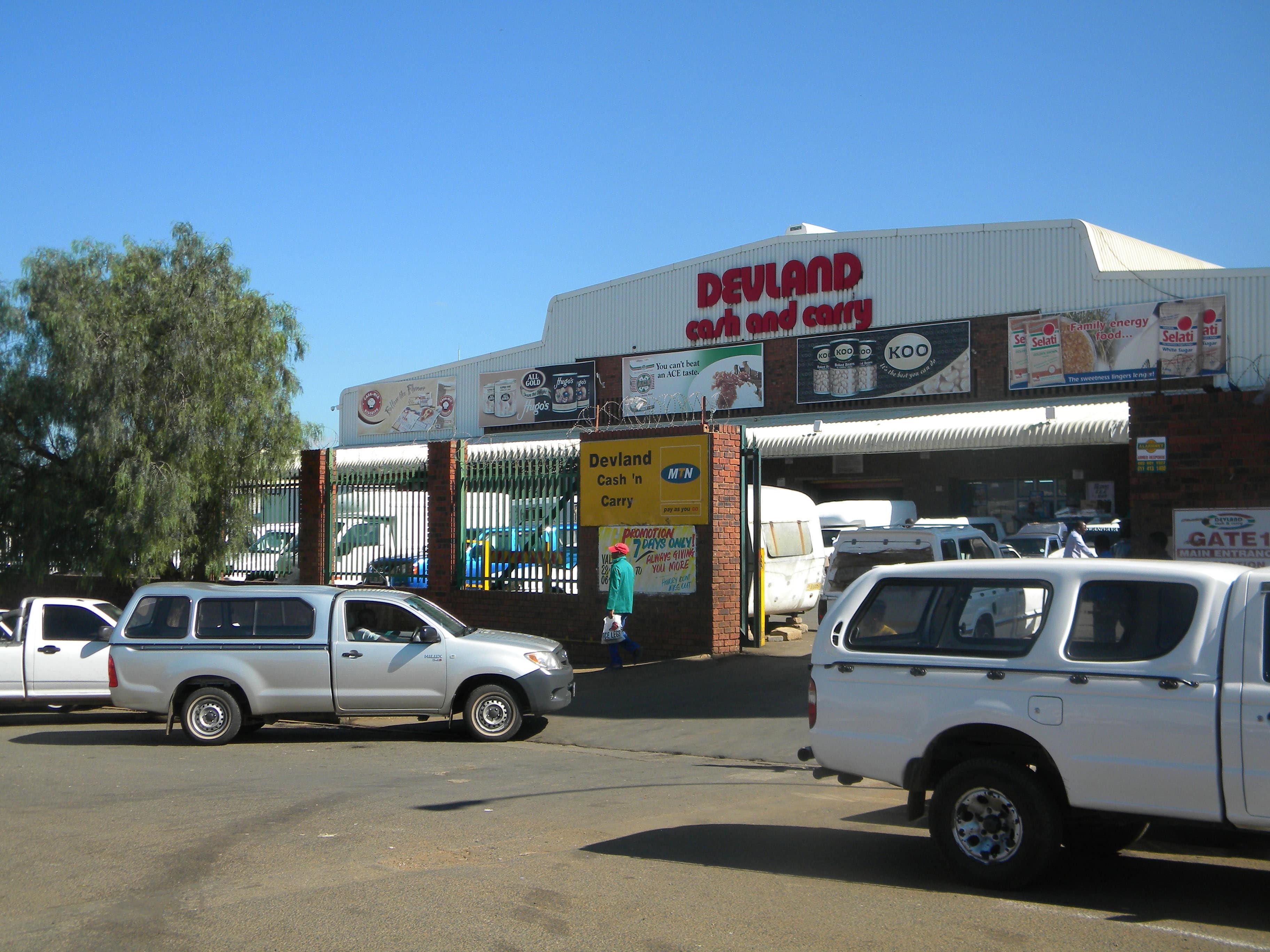 Get high quality products at competitive prices
We understand the dynamics of business and want to help you maximise your profits.

61 Murchison St, Ladysmith, 3370, South Africa
61 Murchison St, Ladysmith, 3370, South Africa
Bethlehem, Opp DIY Store, South Africa
Bethlehem, Opp DIY Store, South Africa
2 Hotchkiss Street, Komati
2 Hotchkiss Street, Komati
31 Railway St, Carletonville, 2499, South Africa
31 Railway St, Carletonville, 2499, South Africa
Beyers and Peter Road, Honeydew
Beyers and Peter Road, Honeydew
10 Newton Street, Uraniaville, Klerksdorp, 2571, South Africa
10 Newton Street, Uraniaville, Klerksdorp, 2571, South Africa
104 De Rust Stand, Hazyview, South Africa
104 De Rust Stand, Hazyview, South Africa
38 Main St, Kokstad, 4700, South Africa
38 Main St, Kokstad, 4700, South Africa
Voortrekker St & Havenga Rd, Ermelo, 2351, South Africa
Voortrekker St & Havenga Rd, Ermelo, 2351, South Africa
160 Power Rd, Welkom, 9460, South Africa
160 Power Rd, Welkom, 9460, South Africa
7 Old Pretoria Rd, Nelspruit, 1211, South Africa
7 Old Pretoria Rd, Nelspruit, 1211, South Africa
Park Ave, East London, 5201, South Africa
Park Ave, East London, 5201, South Africa
Head Office, Klepkas Rd & Piston Rd, Soweto, 1811, South Africa
Head Office, Klepkas Rd & Piston Rd, Soweto, 1811, South Africa